Cavitation treatment Helsinki
Ultrasonic Cavitation, also known as Ultrasound Liposuction, is a non-surgical fat removal procedure. This revolutionary treatment was developed in Europe. Unlike traditional surgery, there is no need for anesthesia, hospital stays, time off from work, or recovery time. Customers typically experience immediate results, with ongoing fat reduction visible for up to a week following the treatment.
In simple terms, ultrasonic cavitation is a weight-loss procedure that utilizes low-frequency sound waves to target and burst fat cells. This can lead to a reduction in centimeters on the treated areas and ultimately result in a slimmer figure. Its popularity has been on the rise because it offers a non-invasive alternative to traditional liposuction, which involves surgery.
Ultrasonic cavitation offers several benefits:
Improves skin texture
Shapes and contours the body
Enhances lymph and blood circulation
Addresses cellulite
Tightens connective tissue
One of its key advantages is that it involves no surgery, incisions, or pain, and anesthesia is not required.
For even better results, we recommend combining with Pressotherapy or Radio Frequency Vacuum Slimming Treatment
for example, abdomen, buttocks or lower back
for example, hamstrings or abdomen
for example, multiple areas
Three procedures give the most favorable result, and also save you 20%
for example, abdomen, buttocks or lower back
for example, hamstrings or abdomen
for example, multiple areas
Suosittelemme n. 6-8 kerran sarjahoitoa näkyvien tuloksien saavuttamiseksi 1 viikossa.
Frequently Asked Questions about Ultrasound Cavitation
Is Ultrasonic Cavitation considered a safe procedure?
Yes, Ultrasonic Cavitation is a safe, comfortable, and non-invasive procedure with virtually no side effects. It does not require anesthesia, leaves no scars, and has no post-treatment requirements. The ultrasound energy is specifically designed to target fatty tissues beneath the skin and does not affect blood vessels, nerves, or connective tissues
Is Ultrasonic Cavitation painful?
No, the treatment is painless. You may occasionally feel a slight tingling sensation or buzzing in the ear during the procedure. Some individuals may also experience a mild heat sensation, but it is not painful. Any slight reddening of the skin that may develop during or after treatment typically disappears quickly.
Does Ultrasonic Cavitation work on cellulite?
Yes, low-frequency ultrasound (40 kHz) is effective for treating cellulite by focusing the cavitation effect on superficial fat tissue. The best results are usually achieved when ultrasound is used in conjunction with radio frequency (RF) treatment, which helps to tighten and tone the skin. Cellulite is characterized by the appearance of dimpled skin.
What results can I expect after Ultrasonic Cavitation treatment?
Ultrasonic cavitation therapy often produces immediate results that you can feel, touch, and see, and these results can be long-term. Some customers may experience a reduction in circumference of 1-4 centimeters after one session, with increasing definition seen in subsequent visits. However, more significant results are usually observed after the second and third treatment sessions.
Before and Aftercare Advice for Ultrasonic Cavitation Treatment
To ensure the best results with this treatment, we suggest following these aftercare recommendations:
Hydration: Drink at least 2 liters of water during the day (soft drinks, soda, juice, or tea do not count as water).
Diet: Avoid eating 2 hours before and 1 hour after the treatment.
Alcohol: Refrain from consuming ANY alcohol on the day of the treatment and for 48 hours afterward.
Temperature: Avoid hot showers (warm is acceptable), spa, or sauna use for 24 hours after treatment.
Diet: Follow a fat-free, low-starch, low-sugar diet for the best results.
Exercise: Engage in at least 20 minutes of exercise after your treatment to stimulate lymph movement.
Are there any side effects of Ultrasonic Cavitation treatment?
Ultrasonic Cavitation treatment has virtually no side effects. However, in rare cases, there may be mild and short-term side effects like transient redness, increased thirst, or mild nausea immediately after the treatment, all of which can be resolved by drinking water. These effects typically disappear within a few hours.
It's important to note that while Ultrasonic Cavitation is a safe and painless procedure, it may not be suitable for everyone. Contraindications for using cavitation devices for localized fat treatment depend on an individual's medical history.
Please review the contraindications before booking an appointment.
On which body parts is Ultrasonic Cavitation treatment most effective?
Ultrasonic Cavitation treatment is most effective for thighs (saddlebags), abdomen (love handles), hips (flanks), buttocks, and upper arms—areas with localized fat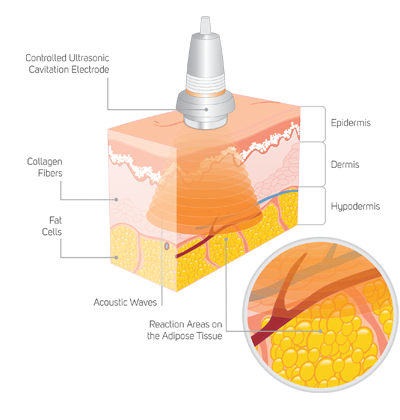 Contraindications for Ultrasound Cavitation
Pregnant or breastfeeding
Heart problems, diseases, or pacemaker
High blood pressure
Cancer
Kidney damage, diseases, or problems
Liver damage, diseases, or problems
Acute inflammatory processes
Hemorrhagic disease, trauma, or bleeding
Medical plastic parts or parts with metal inside
Abnormal immune system
Numb or insensitive to heat
Avoid during menstrual period
Opening Hours
Mon-Fri: 10:00-18:00
Different time available by appointments
BOOK AN APPOINTMENT