Vacuum Radiofrequency Slimming Treatment Helsinki
For face, body, arms and legs
Radio frequency is a non-invasive, non-surgical skin tightening treatment that heats skin tissue to stimulate collagen production. The increased collagen works to tighten and firm skin, improving its overall appearance.
Radio frequency is applied through a special applicator tip massaged onto the skin. A cool gel is applied to your face or body, helping the applicator easily glide over skin.
Discomfort is minimal. During the treatment you'll feel heat and slight pulsation or vibration. The gel paired with the applicator can create a hot and cool sensation.
Increased effectiveness when combined with Pressotherapy or Ultrasound Cavitation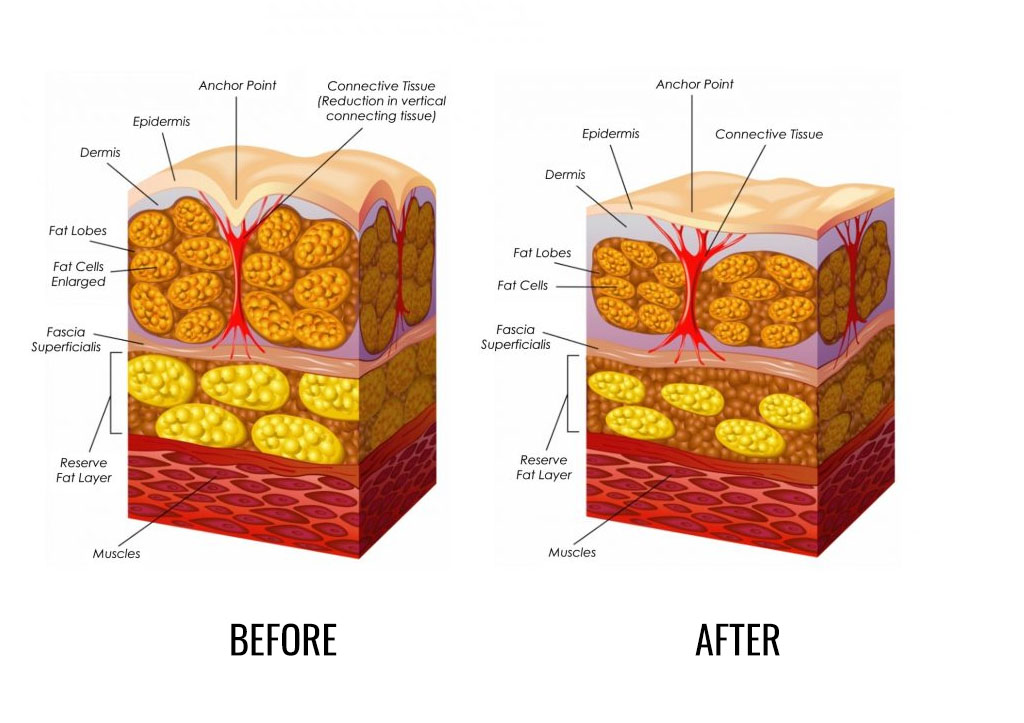 Benefits of Vacuum RF treatment?
Results last up to 2 years
Completely destroys fat cells
Stimulates collagen, elastin & hyaluronic acid
Non-invasive
The treatment is painless
Tones & tightens skin
Instant Visible results
Uses the body's own natural healing
Relaxing, painless treatment
Softens fine lines
Treats cellulite
Increased effectiveness when combined with Pressotherapy or Ultrasound Cavitation
for example, abdomen, buttocks or lower back
for example, hamstrings or abdomen
for example, multiple areas
Three procedures give the most favorable result, and also save you 20%
for example, abdomen, buttocks or lower back
for example, hamstrings or abdomen
for example, multiple areas
Suosittelemme n. 6-8 kerran sarjahoitoa näkyvien tuloksien saavuttamiseksi 1-2 kertaa viikossa.
Vacuum Radio Frequency Treatment, Frequently Asked Question
Is Radiofrequency treatment a safe procedure?
Yes, it is a safe, comfortable, and non-invasive procedure with virtually no side effects. Radiofrequency treatments can be performed on all skin types and do not usually cause any damage to the surface of the skin. Clients with pacemakers, defibrillators, or any implanted metal device cannot be treated.
Is the procedure painful?
Gradual heating and an integrated cooling system prevent pain and a more comfortable treatment. There is no downtime. Clients may return to their normal activities post treatment.
Radiofrequency Vacuum Slimming Treatment technology selectively target fat cells, while leaving surrounding tissue unharmed. The transverse wave vibrations disrupt fat cell membranes, leading to gradual breakdown and release of stored fat. Damaged fat cells are then disposed of the body through the lymphatic system.
Does it work on cellulite?
Yes, low frequency ultrasound (40 kHz) generally works well on cellulite by focusing the cavitation effect on the superficial fat tissue. Best results are obtained when the ultrasound is applied in conjunction with the radio frequency (RF) treatment which helps to tighten and tone the skin. Cellulite is the appearance of dimpled skin.
How many treatments do clients typically need in order to see results?
Depended on the indication you wants to treat, we recommend 6-8 sessions but mostly result can be seen by the second session.
Before and aftercare advice
Pre Treatment
• Do NOT undergo any skin peel or laser procedures for 2 weeks prior to the procedure.
• If you have a history of cold sores, please DO let us know.
• DO hydrate well the day of and day after treatment as this will result in a more comfortable and effective treatment.
Post Treatment
• DO NOT vigorously rub the skin after treatment, DO gently wash your face and continue with your usual skincare routine.
• Do not have a hot shower (warm is alright), spa or sauna straight after treatment.
• Do NOT undergo laser treatments, chemical peels, waxing, the use of depilatories, or microdermabrasion for 3-4 weeks after treatment.
• DO expect some possible tenderness, warmth, and redness on the treated areas from few hours to few days.
• If you were instructed to take an antiviral medication, DO complete the prescribed course.
Are there any side effects with this treatment?
Along with effectively lifting and tightening tissues without surgery or downtime, one of the greatest benefits of RF treatments, when performed correctly, is that post-procedure recovery is very quick and easy. Side effects are typically minimal and short-lived, limited to mild and temporary swelling, redness, and tingling, depending on the treatment.
On which parts of the body is treatment most effective?
Any part of the body with cellulite or that needs to be tightened and firmed, including limp skin on the neck and face, on the back of arms, etc. Fat deposits and cellulite are the most common aesthetic problems affecting the lives of many women worldwide.
Radiofrequency Contraindications
has rosacea or eczema
has a rash or sores
is pregnant or nursing
has an autoimmune condition or uses immunosuppressive medications
has a history of or currently has cancer, including skin cancer and premalignant moles
has lupus, epilepsy, or other conditions that may be stimulated by light
clients with a history of diseases stimulated by heat
has poorly controlled endocrine disorders, such as diabetes.
has and/or has a pacemaker or any cardiac condition such as irregular heartbeat
has had facial laser resurfacing or a deep chemical peel within 3 months
has had any other surgical treatment on the facial or body area within the last 3 months or before completely healed
Opening Hours
Mon-Fri: 10:00-18:00
Different time available by appointments
BOOK AN APPOINTMENT