If you're tired of daily shaving and hair removal methods that leave your skin feeling bumpy and rough,
you might have considered trying IPL already.
IPL (Intense Pulsed Light) is a light-based hair removal method, which targets the melanin (pigment)
inside the hair to interrupt the hair growth cycle and prevent hair regrowth, without damaging the skin.
The benefits :
1. IPL Hair Removal is quick, easy and painless
2. IPL Hair Removal is completely safe and effective
3. IPL Hair Removal can prevent ingrown hairs
4. IPL Hair Removal reduces your hair regrowth
5. IPL Hair removal works with all skin types
6. IPL Hair Removal has little to no side effects
7. IPL hair removal makes your skin smoother
IPL works on the same principle as laser treatments in that the device emits light energy that's being absorbed to the target cell that is then converted to thermal energy. However, IPL is different from lasering in that it uses several wavelengths instead of only one. The method is quick and painless, and it's based on the wavelengths of light between 400–1200 nm that are absorbed into the pigment in the hair and the follicle, inhibiting new growth. The light is absorbed into the follicle through the melanin in the hair, heating it up and destroying the follicle. The intensity of the light impulses is carefully selected so that it's as effective as possible while still remaining safe and painless. Just kick back and relax while our trained professional works on the desired area.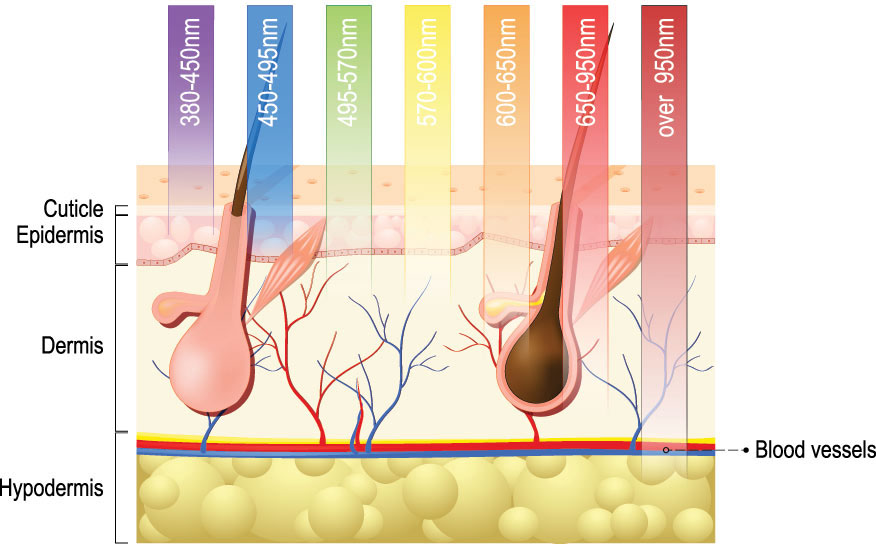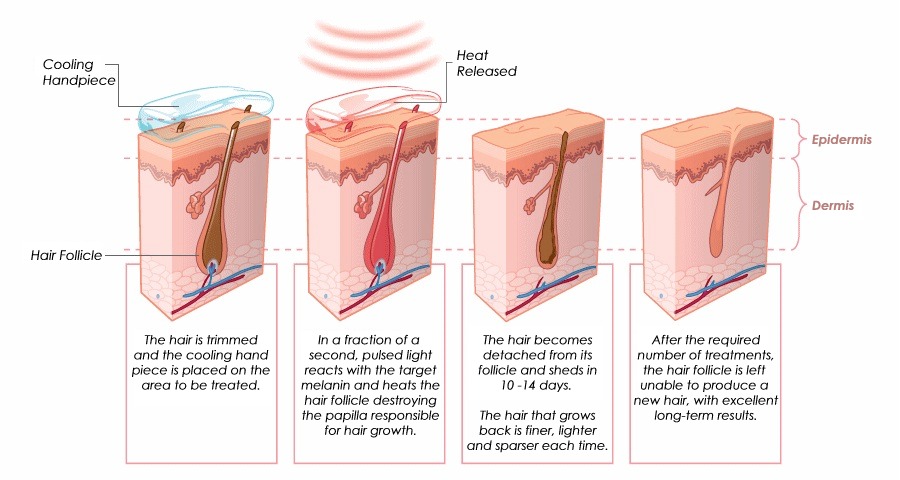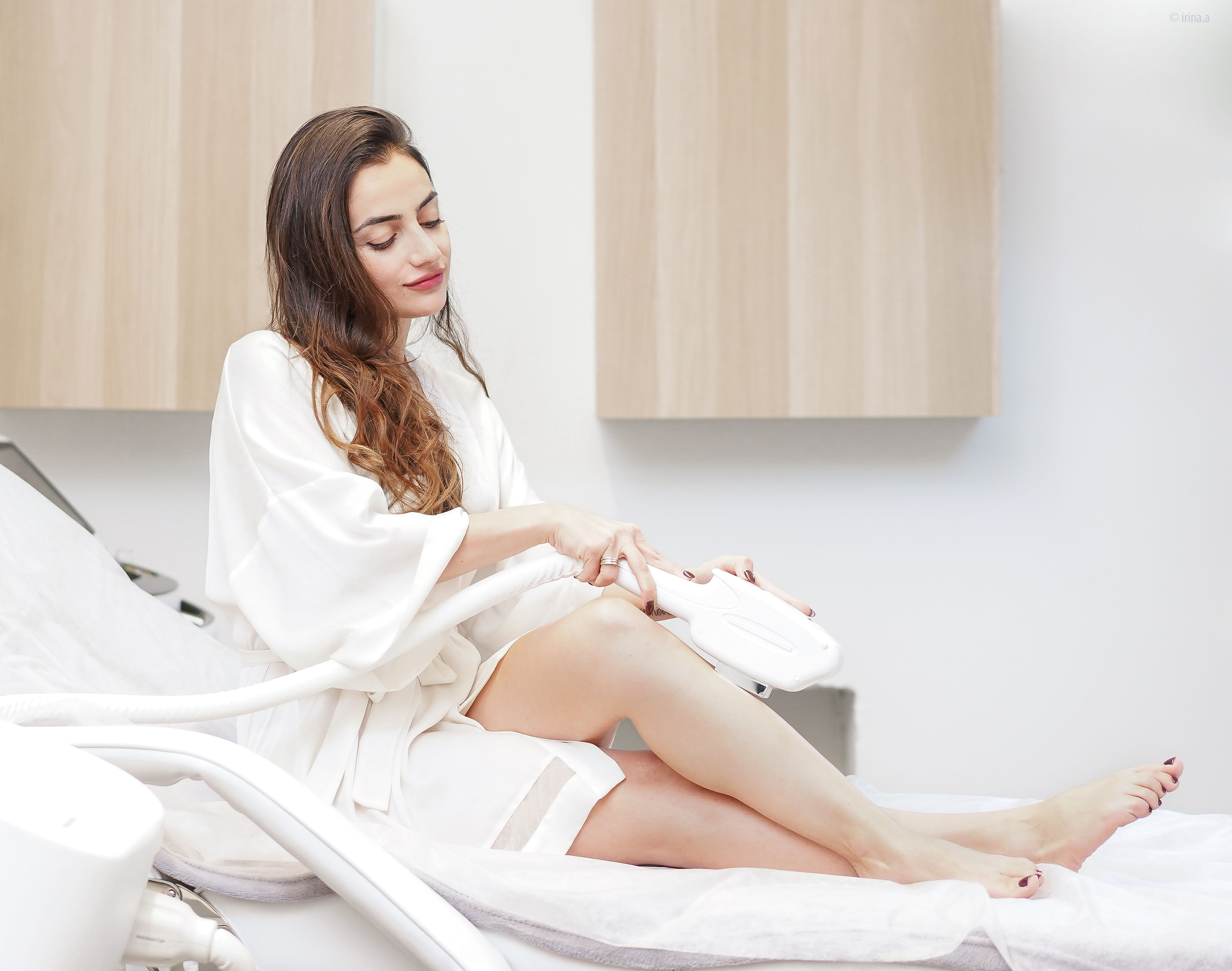 The IPL technology employs a wider spectrum of light compared to lasering, making it more effective for hair removal. Being able to treat larger areas at once, individual treatments also take less time. Sometimes several treatments are required for better results.

Contraindication
Contraindication
Request offer for more than 1 area
Achieve great results with IPL technology
Fast and easy hair removal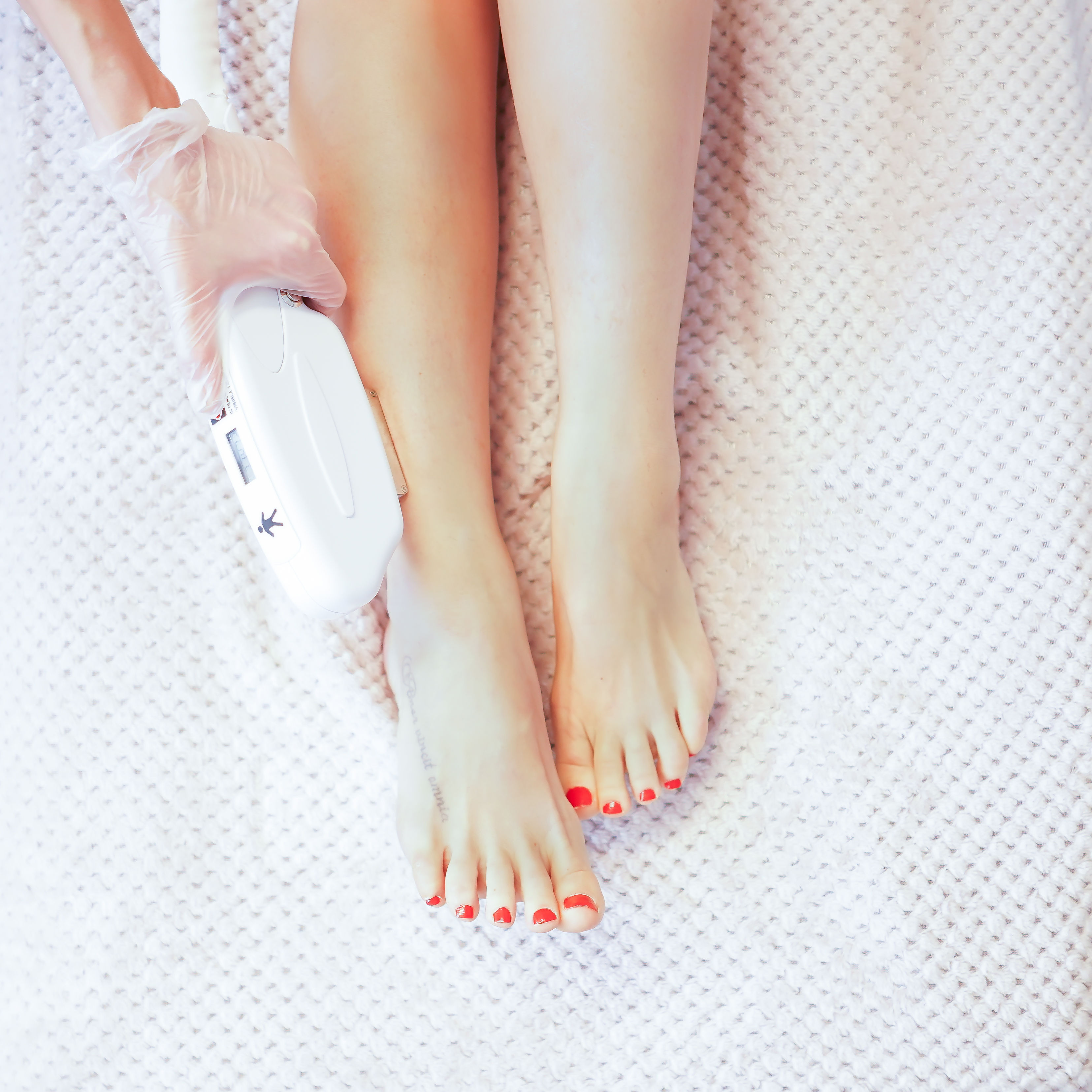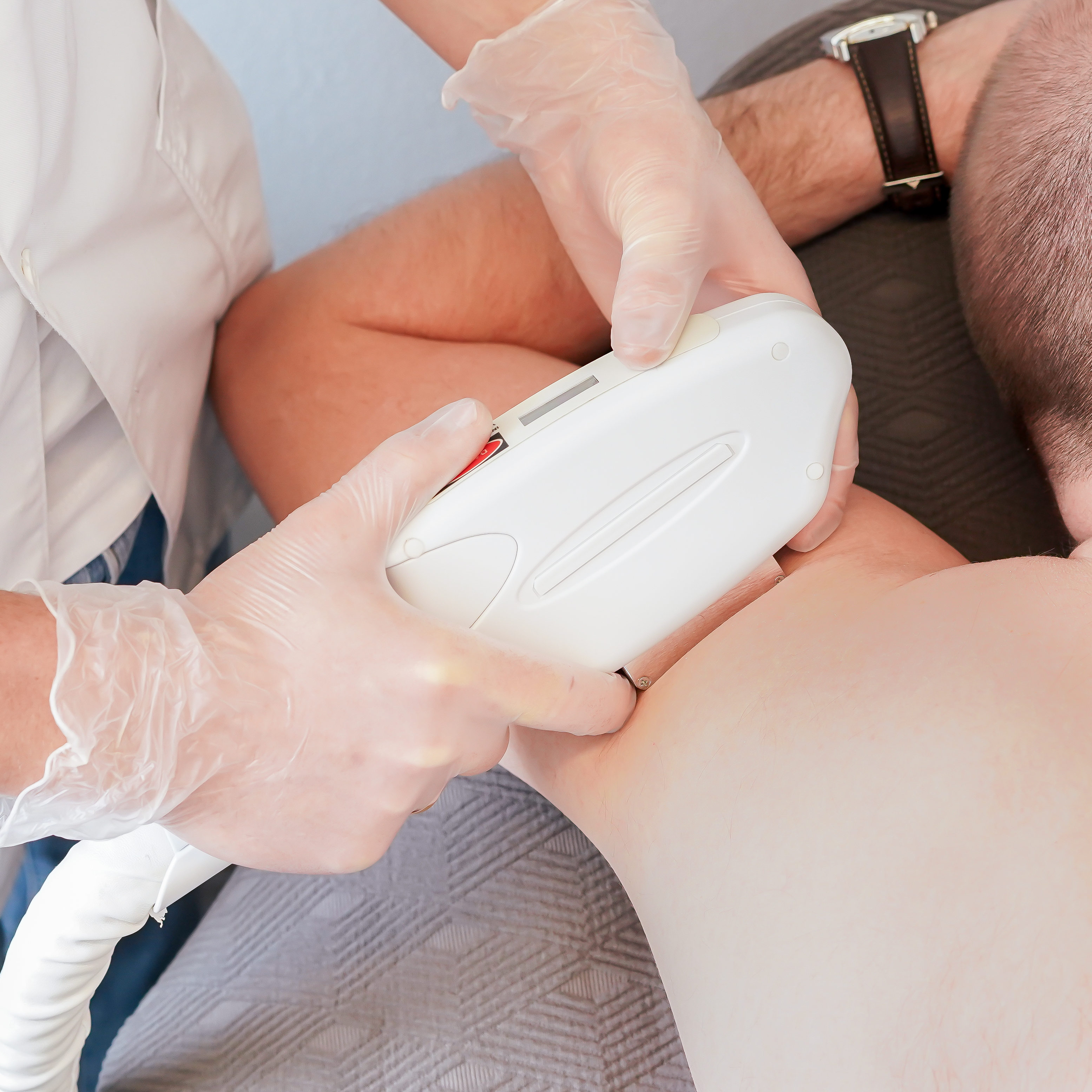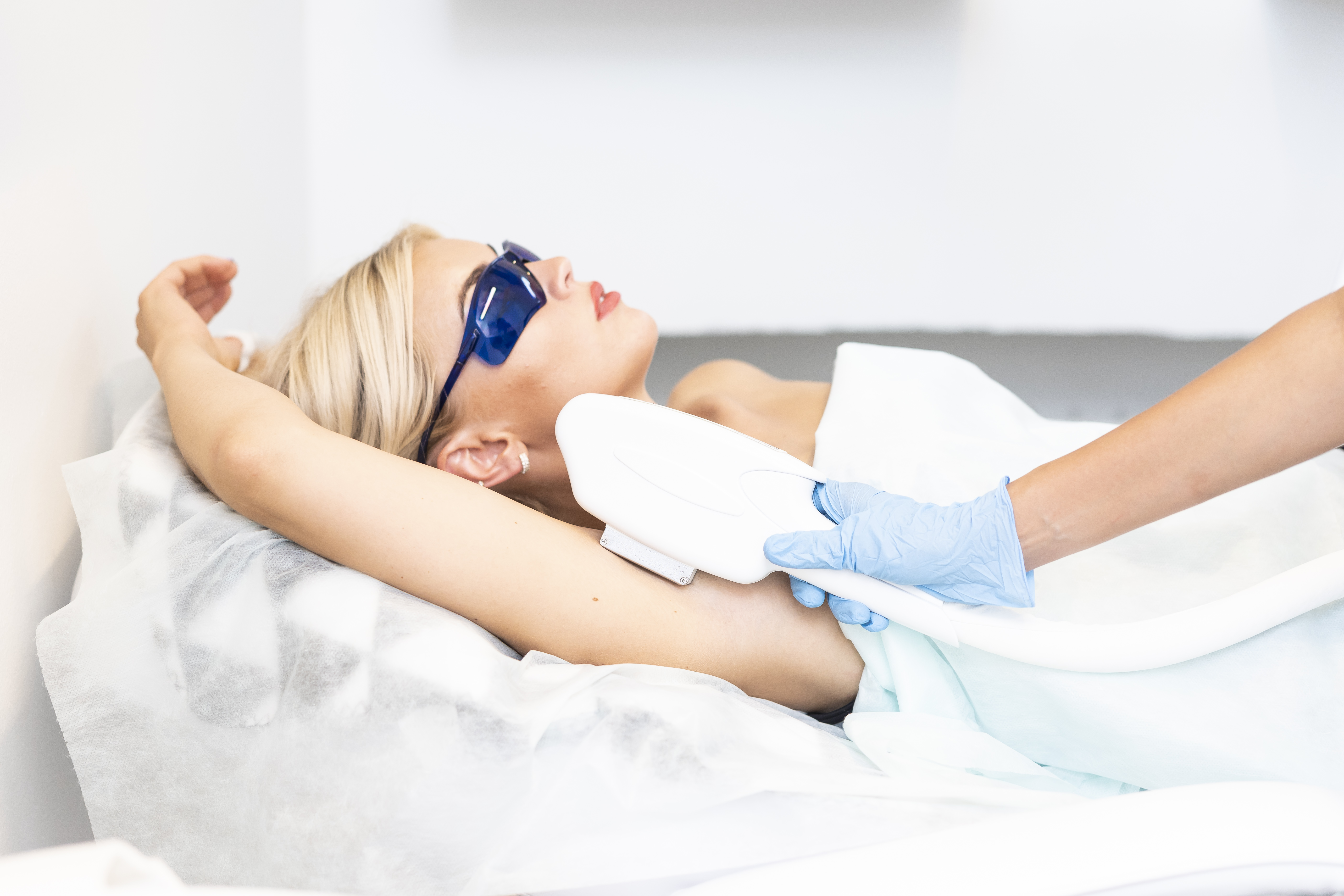 The IPL method is not recommended if you
Are pregnant or breastfeeding
Have an oncological condition
Have epilepsy or asthma
Take blood thinners
Have varicose veins
Use a cochlear implant or a pacemaker
Use a hormonal IUD (not absolutely strict)
Have a flu , herpes or allergic symptoms (not absolutely strict)
3 days prior to the treatment, please abstain from:
Massages, scrubs or peels or other cosmetological procedures
Sauna, sunbathing, solarium and swimming
Mechanical hair removal such as waxing, sugaring or epilation should be avoided between treatments. Only shaving is advised.
Are there any side effects?
Unwanted skin reactions are extremely rare. Some areas are more sensitive than others, and some people may experience mild redness, swelling or temporary changes in pigmentation. These symptoms can be reduced within a few hours by using an Aloe Vera gel or a topical cream after the treatment.
How should I prepare for IPL treatment?
IPL treatment is always done on hair that's 1 to 2 mm in length. The desired area should always be shaved 1 to 2 days prior to the treatment. Between treatments, it is not advised to use mechanical hair removal methods such as waxing, sugaring or epilation. If you forget to shave 1 to 2 days prior to your scheduled appointment, please reschedule a new appointment.
IPL treatment – forever or not?
The result is visible after the first procedure. Hair begins to grow thinner and slower. With each subsequent procedure, the result becomes more noticeable. Since exposure to light on the hair follicle occurs in the active stage of hair growth, a course of procedures is needed, since all hair follicles have a different cyclicity of renewal. After a while our body can begin to form new single hair follicles, so to maintain the result it is recommended to take 1-2 procedures every 6-12 months.
Can IPL treatment be used on  sun-tanned skin?
The method can be used safely for all skin types without the risk of burns. A tan skin can thus also be treated, as long as it's not recently tanned. If you're planning on intense sunbathing, please abstain from it 5 days before and after the treatment. A sunscreen should always be used.
Can IPL treat tattooed areas?
It is not recommended to use IPL treatment directly on tattooed areas, as it may cause color changes
Is it safe to undergo IPL treatment during menstruation?
Yes, you can undergo IPL treatment during menstruation. However, some individuals may experience increased sensitivity to pain during this time. For those who are highly sensitive, we recommend avoiding appointments 2 to 3 days before or after menstruation when sensitivity is typically reduced.
Does IPL treatment remove fine hairs
Unfortunately, IPL treatment cannot remove fine hairs because it requires pigment in the hair, which fine hairs lack. Fine hairs start growing on our bodies during childhood and are not related to hormonal hair growth
Can I undergo IPL treatment on my face with dental braces or implants?
Dental braces or implants are not a concern for IPL treatment. The light impulse is absorbed only by the hair follicle and does not penetrate deeper into the skin. This applies to both implanted and removable implants.
Is IPL treatment considered safe?
IPL treatment is a well-researched, safe, and reliable method for hair removal. Skin reactions are extremely rare, and some individuals may experience temporary, mild redness. The light impulses are absorbed into the hair follicle just a few millimeters below the surface of the skin and have no effect on other parts of the body.
Is IPL treatment suitable for men?
Yes, IPL is suitable for men. You can achieve visible results with just one to two treatments.
How many treatments do I need, and how often should I get them?
"It is recommended to have a total of 4 to 10 treatments, spaced 4 weeks apart, depending on your individual situation. You can expect to see the first visible results within a couple of weeks after the first IPL treatment session. Please note that we require a hair length of 1 mm."
Opening Hours
Mon-Fri: 10:00-18:00
Different time available by appointments
BOOK AN APPOINTMENT